In Saedx for web design and web development company in Jordan we know the power of SEO for every business's, even if your business field is in medical, contracting, learning or whatever, you need to be visible in local SEO search, in other word be visible in the search engine to your local market. that's can happen by local SEO strategy.
In Saedx we have a lot of experience in local SEO services. You can check some of our successful experience in local SEO services by search in google using keyword: Web Design in Jordan.
Here the result: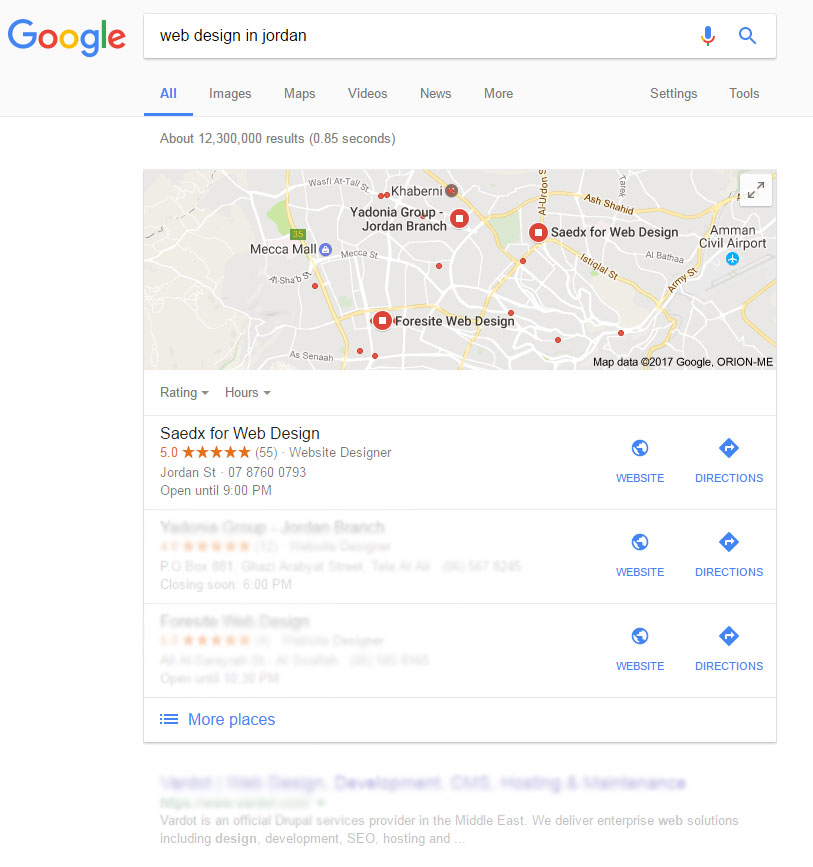 We are the first website in google map ranking when you search for Web Design Company in Jordan.
So, please tell us where is your website ranking in local SEO search?
Whatever your answer we are here to serve you in Local SEO services.
Today, business owners should be moving about optimize the performance of their the local SEO, Because of the giant's search engines like Google loves local businesses, This may lead to more small companies or startups companies to start looking in the local SEO and the best way to increase search engine ranking.
Tips for Local SEO Strategy
Use local listing websites
make sure your business is listed appropriately throughout the internet, Claim your local business profile on the local directory websites such as Yelp, Google My Business, Yahoo Local, TripAdvisor, Bing Place, the Yellow Pages, Chamber of Commerce and every other local listing you can find.
Ensure that the most important business information ( name, address and phone number) are accurate and formatted consistently across all of these websites.
Find local keywords
Search for best keywords options including using the country, state or city name before or after a primary keyword.
Add media
Add pics and videos that relate to your business to your website and created profiles on local listing websites.